Born on October 17, 1986, and resident of La Massana (Andorra), Toni Bou's career as a rider began with bicycle trial when he was eight years old. After winning the world championship in this category in 1999, Bou switched to motorcycle trial riding.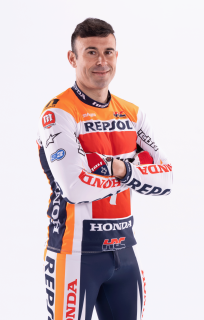 Background
The arrival of Toni Bou on the Trial scene meant a change in the sport. He is currently one of the most successful athletes in history, being the rider who has won the most titles in the world of two-wheel competition.
Bou has won 32 consecutive titles in the X-Trial and TrialGP disciplines, and season after season he has proven to be the master of the sport. Born in Piera in 1984, his successes in the world of competition date back to 2001, when he was proclaimed Junior Spanish Champion. From that moment on, his records continued and, although no result has been easy, the victories achieved over the years are a reflection of his hard work, sacrifice and determination.
In 2007 Bou joined the Repsol Honda Trial Team, a relationship that remains to this day. Riding the Montesa Cota 4RT, he is looking for another title in 2023.
Career Information
| | |
| --- | --- |
| First Race | 1999 - February |
| World Trial Debut | 2003 - Ireland, Bangor |
| 2003 | 13th World Outdoor Trial Championship, European Outdoor Trials Champion |
| 2004 | 9th World Outdoor Trial Championship |
| 2005 | 5th World Outdoor Trial Championship, 7th World Indoor Trial Championship, TDN winner member |
| 2006 | 5th World outdoor Trial Championship, 3rd World Indoor Trial Championship, Spanish Outdoor Trials Champion, TDN winner member |
| 2007 | World Trials Champion & World Indoor Trial Champion (Montesa Honda), TDN winner member |
| 2008 | World Trials Champion & World Indoor Trial Champion (Montesa Honda), TDN winner member |
| 2009 | World Trials Champion & World Indoor Trial Champion (Montesa Honda), Spanish Outdoor Trial Champion, TDN winner member |
| 2010 | World Trials Champion & World Indoor Trial Champion (Montesa Honda), TDN winner member |
| 2011 | World Trials Champion & World Indoor Trial Champion (Montesa Honda), Spanish Outdoor Trial Champion, TDN winner member |
| 2012 | World Trials Champion & World Indoor Trial Champion (Montesa Honda), Spanish Outdoor Trial Champion, TDN winner member |
| 2013 | World Trials Champion & World Indoor Trial Champion (Montesa Honda), Spanish Outdoor Trial Champion, TDN winner member |
| 2014 | World Trials Champion & World Indoor Trial Champion (Montesa Honda), Spanish Outdoor Trial Champion, TDN winner member |
| 2015 | World Trials Champion & World Indoor Trial Champion (Montesa Honda), Spanish Outdoor Trial Champion, TDN winner member |
| 2016 | World Trials Champion & World Indoor Trial Champion (Montesa Honda), Spanish Outdoor Trial Champion, TDN winner member |
| 2017 | World Trials Champion & World Indoor Trial Champion (Montesa Honda), Spanish Outdoor Trial Champion, TDN winner member |
| 2018 | World Trials Champion & World Indoor Trial Champion (Montesa Honda), Spanish Outdoor Trial Champion, TDN winner member |
| 2019 | World Trials Champion & World Indoor Trial Champion (Montesa Honda), Spanish Outdoor Trial Champion, TDN winner member |
| 2020 | World Trials Champion & World Indoor Trial Champion (Montesa-Honda) |
| 2021 | World Trials Champion & World Indoor Trial Champion (Montesa-Honda), TDN winner member |
| 2022 | World Trials Champion & World Indoor Trial Champion (Montesa-Honda), TDN winner member |
Rider Statistics
| | |
| --- | --- |
| Date of Birth | 17th October 1986 |
| Nationality | Spanish |
| Place of Birth | Piera, Barcelona, Spain |
| Residence | La Massana, Andorra |
| Weight | 75kg |
| Height | 175cm |
| Racing Number | 1 |
| First Race Win | 1999 - February |
| First World Trial Win | 2006 - Spanish GP, Nigran |
| World Titles | 32 (16 outdoor and 16 indoor) |
| Total World Trial Wins | 205 (132 outdoor, 74 indoor) -updated 05/02/202- |
| Podiums outdoor | 1st place: 132 - 2nd place: 36 - 3rd place: 16 -updated 18/09/2022- |
| Podiums indoor | 1st place: 73 - 2nd place: 11 - 3rd place: 3 -updated -08/10/2022- |
More Stats & Facts
Record of victories in Trial World Championship: 100 (updated on 25/6/2018)